Strengthening Communities Partnership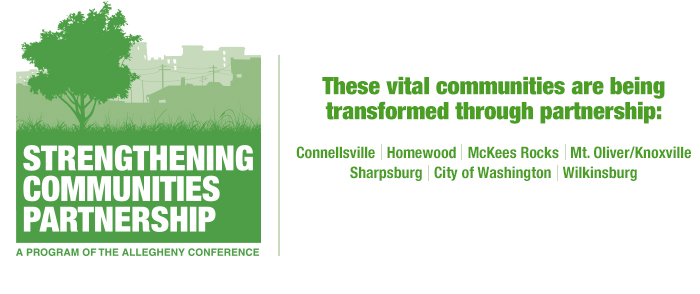 What is the Strengthening Communities Partnership (SCP)?
The SCP seeks to make long-term, positive impacts in participating communities by concentrating private investment through tax credits purchased by businesses in the PA Department of Community and Economic Development Neighborhood Partnership Program. These investments are complemented with targeted, pro bono professional services that will make redevelopment projects happen in the neighborhoods.
We believe that more investment and resources will increase the capacity of local planners, developers and community development corporations to improve the economic vitality of their communities.
Which communities are participating in the program? How were they chosen?
To date, seven community development organizations were selected for investment through a competitive Request for Proposals (RFP) process. These organizations serve as the funding recipients for their respective communities. They were selected because of their clear objectives, set of committed partners, potential to attract future investment and sufficient organizational capacity to engage with the Conference in the partnership.
Highlights of Community Projects
The following projects were identified in each community development organization's proposal as being well positioned to benefit from the SCP.
Sharpsburg Neighborhood Organization (Sharpsburg) – www.sharpsburgneighborhood.org
Land use and transportation strategy – Creation and implementation of strategies to eliminate blight, market vacant prosperities, improve the housing stock and reinforce and implement priorities identified in the comprehensive plan.
Main Street improvements – Attract and develop new Main Street businesses (both resident-serving and destination), commercial property rehabilitation and establish main street improvement plan.
City of Washington Citywide Development Corporation
Reinvigorating the Main Street area anchored by the historic County Courthouse – Development is underway of a 15,000 square foot landmark community pavilion as the new center of Downtown Washington's events, attractions and community gatherings.
Business incubator in Downtown Washington – The CDC will partner with Washington & Jefferson College in support of the college's evaluation and predevelopment of a Downtown business incubator.
Housing improvements – The CDC will conduct a comprehensive survey evaluation and catalogue all properties to assess necessary improvements and required upgrades across the city.
Economic Development South (Mt. Oliver, Knoxville) – www.economicdevelopmentsouth.org
Redevelopment of the Brownsville Road corridor – A more unified, efficient and effective strategy is being developed to revitalize the Brownsville Road corridor. The plan will identify specific streetscape and public safety improvements and long-term programs to retain existing and attract new businesses.
Planned creation of a "Dairy District" in Carrick – Flanking the Colteryahn Dairy, the oldest and last remaining diary in Pittsburgh, this district will include streetscape improvements, façade and building renovations, green infrastructure and building technologies and a comprehensive marketing effort.
Multi-modal transit center – A transit center will be created along the intersection of Route 51/88. EDS is working to identify the potential to create infrastructure to access the light rail line, the South Busway and to build a new park and ride facility.
Fayette County Cultural Trust (Connellsville) – www.fayettetrust.org
Stabilize and preserve the housing stock – Code enforcement initiatives, increasing the number of homes that receive assistance to make homes more energy efficient and safer for those aging in place.
Decrease the number of commercial vacancies – Marketing of available buildings to tourism-related retail businesses both in the City and along the Great Allegheny Passage. Market confidence will be measured by a reduction in the number of days that properties are on the market and the number of new business that are started.
Enhance streetscape amenities and open space – Implementation of beautification programs and projects. Transformation of the physical environment will be measured by the removal of blighted structures, the increase in street furnishings and plantings and the utilization of vacant land.
McKees Rocks Community Development – www.mckeesrocks.com/blog
Lower Chartiers Avenue – This main thoroughfare will be rebuilt by focusing on building stabilization and streetscape improvements to improve marketability for real estate. Streetscape improvement will consist of physical improvements such as new lighting, sidewalk and aesthetic improvements. These improvements will dramatically change the lower Chartiers Avenue Streetscape, creating a downtown that is attractive, marketable and pedestrian friendly.
Re-development of lower Chartiers Avenue anchor buildings – MRCDC is doing pre-development work on four anchor buildings on lower Chartiers Avenue – the Roxian Theatre, the Bank of McKees Rocks, the Weitzmann Building and the Miles Bryan School – to prepare them for marketing to private developers. The theatre and the school have already attracted serious private interest.
Operation Better Block, Inc. (Homewood) – www.obbinc.org
Tackling blight remediation through homeowner stabilization – Conducting a neighborhood-wide door-to-door survey of every occupied unit in the neighborhood. This resident survey is intended to not only collect general demographic information, but more importantly, to understand the specific needs of individuals and connect them to services that OBB or its partners provide.
Tackling blight remediation through neighborhood revitalization – Implementation of a housing and land use plan for the neighborhood that details parcel specific strategies as well as short-term and long-term plans for reinvesting in the neighborhood.
Wilkinsburg Community Development Corporation – www.wilkinsburgcdc.org
Wilkinsburg Train Station business plan – Development of a business plan for reuse of the Wilkinsburg Train Station that re-establishes its busway connection, includes a civic or public purpose and reopens the pedestrian tunnel under the railroad tracks.
Penn-Lincoln Hotel site remediation – Environmental remediation is needed following the demolition of the Penn-Lincoln Hotel. After demolition, a new building will be constructed on the scale of existing buildings on Penn Avenue.
Wood Street housing and commercial development – Support for the development of the 1001 block of Wood Street. The project would create 74 housing units and 15 units of commercial storefronts.
800 block of Penn Ave. development – The block currently has a vacancy rate of 98 percent. Several developers are interested, but additional actions are still needed to follow through with the project.
What is the Neighborhood Partnership Program (NPP)?
NPP is a tax credit program of the Pennsylvania Department of Community and Economic Development, which provides an 80 percent tax credit to companies that make contributions to qualifying community development organizations. Supported activities include: affordable housing, real estate development, social services, crime prevention, education, workforce development, and other community revitalization efforts.
Businesses must contribute a minimum of $50,000 per year, and communities can receive up to $500,000 per year. In order to receive the maximum tax credit of 80 percent, businesses must commit to contributions for six years. Multiple businesses can participate in one NPP.
Participating businesses need only complete a single form to contribute, which makes it easy to participate. Net cost to contributing business is approximately 13 cents on the dollar. Partnering neighborhood organizations must complete a thorough Neighborhood Partnership plan, which creates measurable goals and outcomes.
BUSINESSES: how can you get involved in transforming vital southwestern PA communities?
We hope you will be a partner in strengthening our region's communities. For information on how you and your business can make an impact, please contact Becky Thatcher Baer, director of community development, Allegheny Conference on Community Development
bthatcher@alleghenyconference.org; phone: 412.281.4783 x 4570
SCP Media Coverage
The communities that are piloting the Strengthening Communities Partnership have received significant regional and local media coverage since the launch of the program. A sampling of this coverage appears below.
06.29.2015
Homewood, Sharpsburg Selected For Intentional Community Development
90.5 WESA (NPR)
11.13.2014
Multimillion-dollar tax credit to benefit 3 Pittsburgh neighborhoods
Pittsburgh Tribune Review
11.13.2014
Economic Development South secures $2.1M from tax credit program
Pittsburgh Business Times
07.12.2014
Effort to redevelop Connellsville gets financial boost
Pittsburgh Tribune Review
03.30.2014
Mt. Oliver and Knoxville: A Smart Investment Opportunity
Our Region's Business – WPXI-TV
03.10.2014
Remaking McKees Rocks
Next Pittsburgh
01.20.2014
McKees Rocks plans updates of streets; theater comes next
Pittsburgh Post-Gazette
11.15.2013
McKees Rocks and Wilkinsburg win $6 million in development funding
New Pittsburgh Courier
11.05.2013
McKees Rocks, Wilkinsburg see economic-development funding
Pittsburgh Business Times
08.24.2013
Wilkinsburg getting $3 million for renewal plan
Pittsburgh Post-Gazette
08.08.2013
McKees Rocks among community beneficiaries of $2 million renewal program
Pittsburgh Post-Gazette
06.19.2013
Consultants to provide grant-writing assistance
Uniontown Herald Standard
06.11.2013
Economic Development South receives a Strengthening Communities Partnership grant
Uniontown Herald Standard
06.10.2013
Allegheny Conference to Invest in Connellsville
Uniontown Herald Standard
06.9.2013
South Hills communities drive toward fixes jointly
Pittsburgh Post-Gazette
06.8.2013
Connellsville's nonprofits can get financial help from corporations
Pittsburgh Tribune Review
06.7.2013
5 community groups to benefit from tax credit
Pittsburgh Post-Gazette
06.7.2013
5 economic development groups may reap millions through Allegheny program
Pittsburgh Tribune Review
06.6.2013
Five Southwestern PA Communities Part of New Revitalization Partnership
90.5 WESA (NPR)
Additional Resources
The following resources provide information for businesses interested in participating in the state's Neighborhood Partnership Program (NPP).