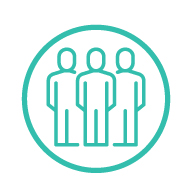 Community Leadership
This section provides specific corporate and community leaders offering support and resources to those in need.
Resources Available
Department of Human Services Announces CHIP to Maintain Enrollment for Families During COVID-19 Crisis: The Department of Human Services (DHS) announced that it is making temporary changes to Pennsylvania's Children's Health Insurance Program (CHIP) to keep families enrolled in CHIP for the duration of the public health emergency and to ease access to medical services for children being screened or receiving treatment for COVID-19. Read more here.

Telephone Discount Lifeline Program to Consumers at Risk of Isolation: The Pennsylvania Public Utility Commission (PUC) is promoting their Lifeline program to help consumers stay connected to their voice and internet services during these challenging times. Read more here.

Compunetix is offering its Video Call Center – a HIPAA compliant, secure telemedicine solution for remote visitations and consultations – free of charge and obligation to healthcare professionals. Compunetix encourages healthcare professionals to contact the organization for a consultation and demonstration.

COVID-19 hotline – ACHD has partnered with United Way 2-1-1 to offer a 24/7 hotline to address questions and concerns about COVID-19. Please call 888-856-2774 to speak with a representative. Language services are available.

Free Food Distribution Map A map that's continuously updated with the most current information of where free food distributions are occurring in Allegheny County.

Harbor Freight decided to donate their entire supply of the personal protective equipment items, including N95 Masks, Face Shields and 5 and 7 mil Nitrile Gloves to front line hospitals with 24 hour emergency rooms in the communities served by our stores. Please see link to access these resources

United Way of Southwestern Pennsylvania – The Heinz Endowments, the Pittsburgh Foundation, the Richard King Mellon Foundation and The Hillman Family Foundation announced $10 million in immediate resources to the community through grants to the United Way of Southwestern Pennsylvania.

Greater Pittsburgh Community Food Bank – The Food Bank is committed to making sure all of our neighbors have access to enough food during the COVID-19 (coronavirus) pandemic.

Allegheny Child Care is a free search tool developed in response to COVID-19 and provided to caregivers of young children to locate available child care spots. It was created in partnership with Trying Together and the Allegheny County Department of Human Services; developed in partnership with Bowtie [https://bowtie.co/], BrightHive, and Child Care Aware of America; is made possible with funding from The Heinz Endowments and The Hillman Foundation; and is powered by BridgeCare Finance.

Trying Together is an early childhood nonprofit coordinating the bulk purchase of PPE and sanitation supplies to support the reopening effort of early learning programs in Allegheny County. To share the opening status of your early learning program and your supply needs, please complete this survey.

Early Learning Resource Center (ELRC) Region 5, Allegheny County's designated child care resource and referral organization, supports the healthy development and early learning needs of children and families by assisting early learning programs with providing high-quality care. As businesses reopen and nonessential workers return to their places of employment, caregivers may contact ELRC Region 5 to learn about child care subsidy eligibility, available spots, and more. Early learning programs who need guidance or resources as they plan to reopen may also contact them for support by calling 1.888.340.3572 toll free or 412.350.3577, or emailing elrc5@alleghenycounty.us.

Wolf Administration releases summer camp and recreation guidance – FAQs released on May 22, 2020 to guide enrichment and recreational activities for youth during the summer months
---
Resources Needed
Pennsylvania Manufacturing Call to Action Portal – Link is for manufacturers that can pivot their capabilities to meet necessary demand for medical supplies.
Pittsburgh Public Schools Remote Learning Fund
Pittsburgh Public Schools (PPS) is set to launch PPS Remote Learning for students April 16. Moving instruction for 23,000 students from brick and mortar classrooms to remote "at home" learning via online. While the district will provide instructional packets for those students who do not have access to technological devices, there is a need to bridge the digital divide and level the playing field.
To date, the District has invested $1.5 million in its Laptop Lending Initiative for students and staff, but the needs are much greater. Results from the District's Home Technology Survey indicate that an additional 7,500 devices are needed to meet the needs of the District's families, including another 800 families who do not have access to the internet.
Help Get Our Kids Back to School
As mentioned on Our Region's Business, students around the 10-county Pittsburgh region need your help in securing the needed technological devices/internet in order to move forward on their educational trajectories. If you have devices that you would like to donate, or to make a financial contribution, please reach out to one of the Intermediate Units below.
---
**Immediate Alerts and Requests**
The Pittsburgh Foundation Emergency Action Fund Immediate contributions are needed to meet childcare, aging, homeless, homeless/out-of-housing quarantine, and more.
The Allegheny County Department of Human Services issued an immediate call for items to address supply chain issues, specifically there is a need for donations of the following items: masks (particularly N95s), gloves, thermometers, and cleaning supplies and equipment. Please contact Marc Cherna, Director, Allegheny County Department of Human Services, marc.cherna@AlleghenyCounty.US.
---