The Case for Change
Pennsylvania's 2,562 municipal governments operate under outdated, inflexible and uncompetitive state laws and policies that often undermine their financial stability.
The uncontrolled costs associated with municipal pensions, binding arbitration decisions, and unfunded mandates coupled with an obsolete revenue structure create an unsustainable situation for even the best fiscally-managed municipalities.
Financial stress is not just a city problem – financially stressed communities are found in nearly every county in Pennsylvania.
Making Our Communities Financially Stable
Thriving communities are essential for a prosperous state and a healthy business environment. As business leaders, we know that our future is inextricably linked to that of our communities.
The Coalition for Sustainable Communities intends to partner with all willing stakeholders to address the long-term structural changes which are necessary to avoid statewide, municipal failure and fiscal crisis.
Read our fact sheets to learn more:
The Allegheny Institute has produced a number of reports on Act 111 and public employee pension plans with a specific focus on Allegheny County and Pittsburgh. The reports below may be of interest.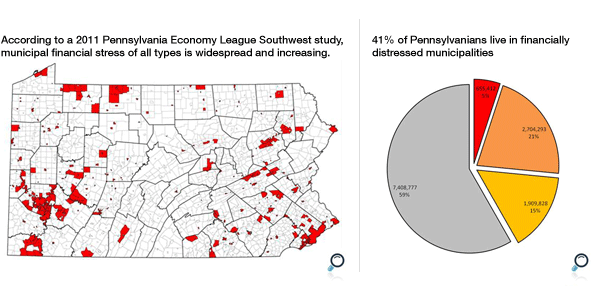 Interested in learning more about municipal distress? The Pennsylvania Economy League can help. Contact Brian Jensen, Executive Director, Pennsylvania Economy League of Greater Pittsburgh for more information.