Daily Update: March 31, 2020 1PM
Pennsylvania
4,843 confirmed cases, 37,645 tested negative, Deaths 63
Cases by county in the 10-county region per Pennsylvania Department of Health
* case count last updated at 12:00 p.m. on 3/31/2020
| | Cases | Deaths |
| --- | --- | --- |
| Allegheny: | 325 | 2 |
| Armstrong: | 5 | 0 |
| Beaver: | 52 | 0 |
| Butler: | 60 | 2 |
| Fayette: | 14 | 0 |
| Greene: | 9 | 0 |
| Indiana: | 6 | 0 |
| Lawrence: | 13 | 2 |
| Washington: | 33 | 0 |
| Westmoreland: | 61 | 0 |
State Updates
Secretary Oleksiak from the PA Department of Labor and Industry gave a press conference yesterday. He noted that more than 834,000 unemployment claims have been filed in PA since March 15. It was suggested that this number eclipses anything ever experienced for a weekly total before, and maybe even a yearly total.
Some PA legislators have been highlighting the need for construction to be included in the list of essential business by the PA Department of Community and Economic Development. We are closely following this issue, as we know this industry affects many of our members.

On Friday, House Speaker Mike Turzai circulated a co-sponsor memo that would allow all public and private construction activities – that can adhere to social distancing practices and other mitigation measures defined by the Centers for Disease Control – to be allowed to operate.
Similarly, earlier today, the PA Senate's Republican Leaders asked the Governor to immediately reclassify residential construction employers as an essential business.

(Note – this is also be covered in the federal update more broadly) President Trump approved Governor Wolf's request for disaster assistance for PA. In a statement from the White House it was noted that the federal assistance will bring money to state and eligible local governments as well as certain private nonprofit organizations for emergency protective measures.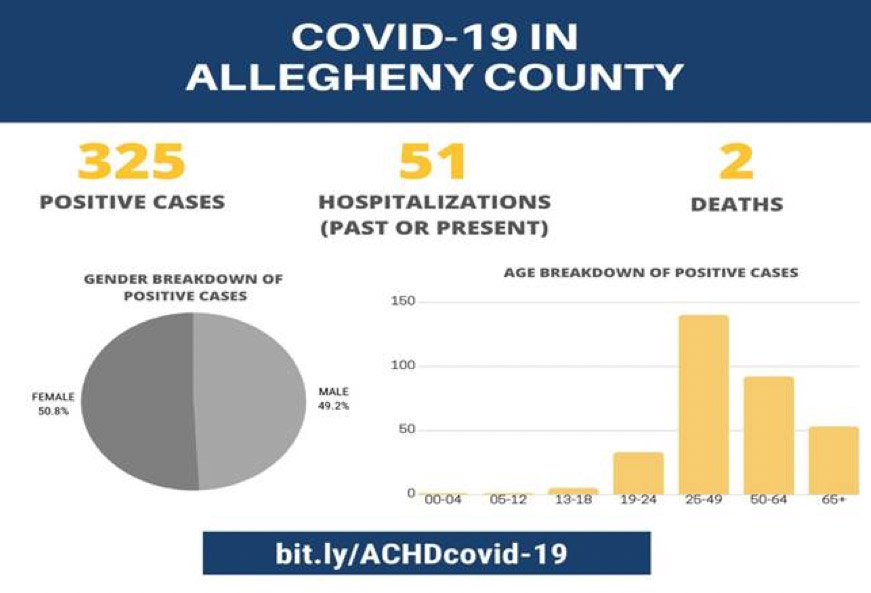 Regional Coronavirus Update
Allegheny County (also: see graphic above)
Allegheny County Health Department has reported 35 new cases of the coronavirus, bringing the countywide total to 325. 25 new cases were on Monday, 46 on Sunday and 61 on Saturday.
The Greater Pittsburgh Community Food Bank provided food to about 4,000 vehicles at three recent events and had to turn away hundreds away; police had to direct traffic, backing up for miles. More than 800 vehicles ended up receiving boxes of groceries. The food bank is planning to hold two or three of these events a week, in addition to serving its 500 pantries, soup kitchens and other meal programs in southwest Pennsylvania.
Paramedics, firefighters and other first responders will now know when they are treating or transporting a patient who may have the coronavirus. The Allegheny County Health Department said first responders will know the location of those patients, but will not be given their names. Until now, the health department had cited state privacy laws preventing them from disclosing the patients' names and addresses.
City of Pittsburgh
Pittsburgh Public Schools will move to at-home instruction, all teachers will receive training, and students will begin at-home learning on April 16th. Student orientation and distribution of materials will take place on April 14th and 15th.
Butler County
An employee at Concordia at the Orchard – a personal care home- in Butler says a part-time employee has been diagnosed with coronavirus. The employee isn't a direct caregiver and is currently isolated at home.
Beaver County
Two of Pennsylvania's COVID-19 deaths come from a nursing home in Beaver County, Brighton Rehabilitation and Wellness Center in Beaver. Nineteen other residents have tested positive for COVID-19.
Federal Coronavirus Update
The Centers for Disease Control and Prevention (CDC)
The White House
The president declared a major disaster in Pennsylvania on Monday night, capping off a day that saw nearly 700 new cases in the state as Gov. Tom Wolf extended the closing as of schools and nonessential businesses indefinitely. The president's declaration makes federal funding available to eligible local governments and certain private nonprofit organizations for emergency protective measures, including direct federal assistance, for all areas in the state affected by COVID-19.
The president has joined Speaker Nancy Pelosi in urging the passage of a $2 trillion infrastructure bill as the next piece of legislation to boost the economy amid the coronavirus pandemic, especially, he noted, with interest rates at zero.
U.S. Department of Transportation (USDOT)
USDOT has released service requirements for airlines seeking funds from the CARES Act. Among other requirements, an airline receiving funding must maintain their route networks as serviced on March 1st.
S. Department of Agriculture (USDA)
Last week, the USDA announced its approval of the Pennsylvania Department of Agriculture's (PDA) request to operate a Disaster Household Distribution program in each of the Commonwealth's 67 counties, after Senator Bob Casey (D-PA) sent a letter to Secretary Sonny Perdue in support of PDA's request, in coordination with the Wolf Administration. This program will allow food banks to provide vital food assistance to all Pennsylvanians who are experiencing significant economic challenges due to the spread of COVID-19 by reducing administrative hurdles they would otherwise face.