Daily Update: March 25, 2020 1 PM
Pennsylvania
1,127 confirmed cases, 11,193 tested negative, Deaths 11
Cases by county in the 10-county region per Pennsylvania Department of Health
* case count last updated at 12:00 p.m. on 3/25/2020
| | Cases | Deaths |
| --- | --- | --- |
| Allegheny: | 88 | 2 |
| Armstrong: | 1 | 0 |
| Beaver: | 7 | 0 |
| Butler: | 12 | 0 |
| Fayette: | 4 | 0 |
| Greene: | 2 | 0 |
| Indiana: | 0 | 0 |
| Lawrence: | 1 | 0 |
| Washington: | 10 | 0 |
| Westmoreland: | 16 | 0 |
State Updates
Governor Wolf added Erie, Lehigh and Northampton Counties to the stay at home order list.
The PA State Police issued a guidance document for their enforcement of non-essential businesses. It can be found here.
PA's Independent Fiscal Office released a March 2020 newsletter.
We anticipate seeing the PA House move a number of bills today around the primary election date and to address the school closures.

SB 422 would move the state's April 28 primary election until June 2.
The House also plans to address emergency School Code changes to address various education concerns that have arisen during the COVID-19 crisis.  The legislation would address items such as:

Elimination of the 180-day instruction requirement on all public and non-public schools
Allowing the state Education Secretary to increase the number of allowable flexible instruction days and waive timeline regarding those days
Ensuring school districts make a "good faith effort" to develop a plan to offer continuing education during the closure of schools
Having the plans be developed locally by each district with guidance from the state Education Department and technical assistance from the districts' intermediate units
Regarding special education, the legislation would ask that notice be given to the parents of all special education students for a plan to ensure the students are receiving "free and appropriate public education"
Ensuring there will be no loss of school subsidies, including for charter schools, and no staff member of any public school will see any less or more compensation than would have received without the school closures
Addressing school bus contractors to ensure that once the current crisis has ended, school buses will be ready to provide service
The PA Senate indicated it will be in session soon to consider the election and school code bills acted on by the House, as well as measures to update the state Unemployment Compensation law.  House Bill 68 will extend relief to affected employees, and support healthcare facilities and workers that are on the front lines of Pennsylvania's efforts to treat patients affected by the virus.
Regional Coronavirus Update
Allegheny County
The Health Department confirmed today that there are 88 active cases of COVID-19, 13 were hospitalized. The number of deaths remains at two. The age and gender distribution of cases in the county are provided below.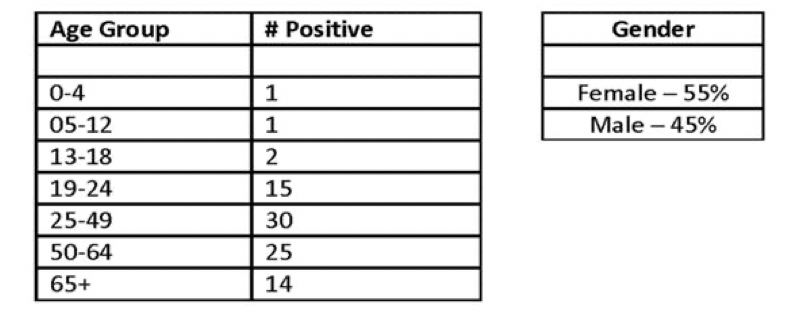 The other counties in southwestern Pennsylvania that are reporting COVID-19 cases are Westmoreland (11), Washington (9), Butler (6), Beaver (3), Fayette (2), Armstrong (1) and Greene (1).
Port Authority of Allegheny County
Effective today, the Port Authority will start using new operational procedures for all passengers. Some of the changes include: customers no longer will use the front entrance doors (except for passengers who need the bus to be lowered or for those who need access to priority seating); cash from passengers will not be accepted either and cash customers are welcome to board the bus without having to pay for their trip; and access to the fare box has been restricted and passengers are being asked to simply show their ConnectCard or other fare product to the operator, no charge will be applied to their account.
Pittsburgh International Airport
Pittsburgh International Airport is serving as a shelter in the storm for airplanes.  As airlines slash flights to deal with the fallout from the COVID-19 pandemic, the airport is becoming a favored landing spot for unneeded jets. American Airlines, one of Pittsburgh International's largest carriers, has parked six Airbus A330 planes at the airport, with more on the way. Christina Cassotis, CEO of the Allegheny County Airport Authority, expects more airline carriers to follow suit.
City of Pittsburgh
Mayor Bill Peduto is returning to his office today, ending his self-quarantine since March 14. He was notified after attending a conference in Washington, DC that one of the conference participants that the mayor had contact with tested positive for the coronavirus.
A statement was released today by the Pittsburgh Bureau of Environmental Services. This was in response to many employees issuing complaints around personal protective equipment, hazard pay, and a series of other issues. Trash pickup in the City was disrupted due to this issue, for more information please read the statement issued by the Mayor of Pittsburgh. https://pittsburghpa.gov/press-releases/press-releases/3808
Federal Coronavirus Update
Early this morning, the Senate passed the nearly $2 trillion economic stimulus package known as Phase III. Details on content is sparse but below is additional information on key parts of the bill.
Phase III
The $500 billion industry specific loan fund will be managed by an inspector general and a 5-person panel appointed by Congress. This was a key tenant of Senate Democrats opposition to the Republican led plan. Companies that accept money must agree to halt any stock buybacks for the length of the assistance plus an additional year.
$150 billion will be designated for a state and local support
$130 billion for hospital support
Unemployment benefits have been enhanced and will give Americans four months-worth of their income if they are furloughed or lose their job due to Coronavirus.
Direct relief to qualified individuals and families of up to $1,200 and $2,400 based on income.
$367 billion in federally guaranteed loans for small businesses